Montevideo Middle School's Mission Statement
The mission at Montevideo Middle School is to build within each student a sense of responsibility, confidence, pride in accomplishments, integrity, positive self-esteem, and appreciation for the rights of others and the motivation to BELIEVE, ACHIEVE AND SUCCEED. We believe that teaching each student is a cooperative effort of the student's parents, faculty, staff and community. Learning best takes place in a caring, structured, well-disciplined, and safe environment.
The staff of Montevideo Middle School believes that ALL students can learn and can achieve mastery of basic grade-level skills, regardless of their previous academic performance, family background, socio-economic status, race or gender. We believe that our school's purpose is to educate all students to a high level of academic performance while fostering positive growth in social/emotional behaviors and attitudes. We accept the responsibility to teach all students so they can attain their maximum educational potential.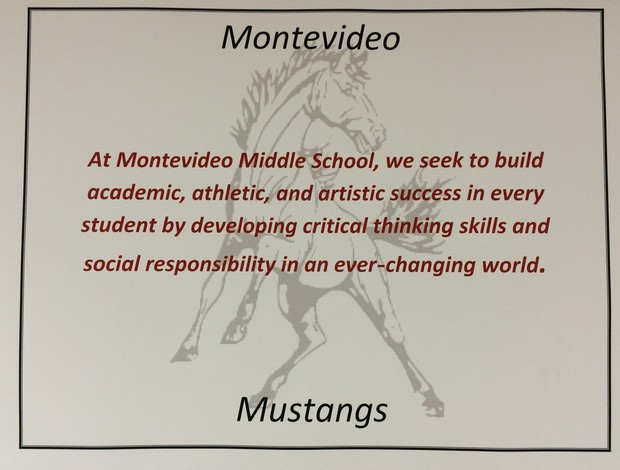 History of Montevideo Middle School
Montevideo Intermediate originally began as a 7th and 8th grade wing for the Montevideo Combined School. The intermediate school operated under high school direction from 1965 to 1973.
The intermediate school was officially separated from Montevideo High School July 1, 1973, under its own administration with Mr. Victor Diehl as principal. At the end of the 1977-1978 school year, Mr. Diehl resigned as principal of Montevideo Intermediate School to assume the principalship at Elkton Elementary School. On July 1, 1978, Mr. Charles Rodeffer became principal of Montevideo Middle School. On July 1, 1980, Montevideo Intermediate added grades 6 and 9 and expanded to include the old high school building as part of Montevideo Intermediate School.
The 9th grade was moved to Spotswood High School for the 1984-1985 school year. Montevideo kept grades 6 through 8 for the 1984-1985 school year. Since that time, and including the present, Montevideo continued to house grades 6 through 8.
Effective July 1, 1989, Montevideo Intermediate became Montevideo Middle School.
On July 1, 1991, Mr. Rodeffer retired and Mr. Robert Scott was named principal. Mr. Scott retired on June 30, 2008 and Ms. Lisa Milliken served as principal for three years. On July 1, 2011, Drew Miller was named principal until 2021, where he assumed the principalship at Mountain View Elementary. Jackie Baker was named principal of MMS on July 1, 2021.
Montevideo Middle School Welcomes You!
7648 McGaheyesville Rd
Penn Laird, VA 22846
Student Pick-Up & Drop-Off Driving Pattern (Drop off begins at 7:40/Pick up begins at 2:45)